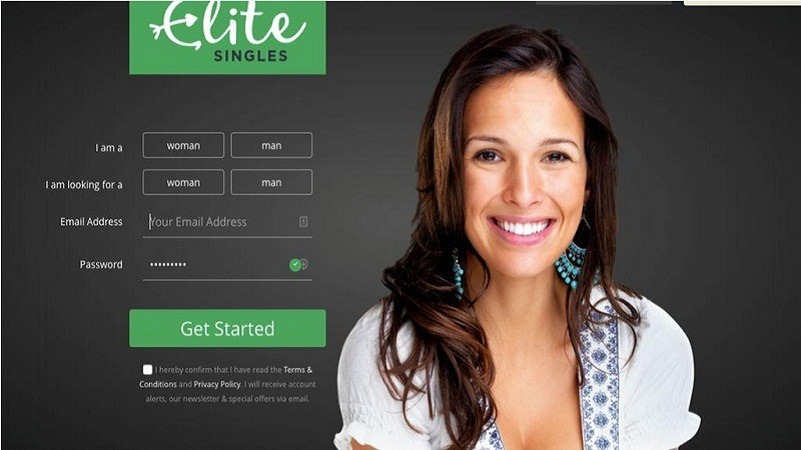 EliteSingles.com has established itself as the premier dating site for educated professionals — specifically those who are looking for a long-term partner. EliteSingles is dedicated to ensuring that members have a safe, efficient, and fun online dating experience from start to finish. Its Secure Fraud Detection System keeps fake profiles off the site, while its in-depth 200-question Personality Test informs its matches so singles find someone who is compatible with them in every way.
Matches Single – EliteSingles.com
EliteSingles is pretty easy to operate. The site matches single mainly based on a personality assessment modeled after the Five-Factor Model theory. Based on your personality and other factors (like age, occupation, and location). The site then sets you up with 3-7 compatible matches per day. This means that unlike sites like OkCupid and Match. You can't peruse the pool for potential love interests but instead, have to wait until EliteSingles delivers matches to you.
Frequently Asked Questions
Is EliteSingles is free?
Yes, Elite Singles is Free for trial version. Elite Singles is a great dating app and if you want to use it for free then you need to install the app on your phone after that you can get a trial version of the app. So this way you can use it for free.
How do I cancel a subscription on EliteSingles?
Once you have logged into your profile, please follow these steps:
Navigate to My Account via the menu and Membership.
Select the cancellation link Cancel.
Select your cancellation reason and click/tap Continue.
Enter your password and click/tap Confirm.
What can I get in the free trial on EliteSingles?
The following free features are available to basic members:
view your personality
test results
receive partner suggestions
send smiles and likes
upload photos.
Does elitesingles.com have fake profiles?
Elite Singles doesn't let you view profile photos without buying a subscription. Elite Singles has a modern-looking, clean website that is easy to navigate. This fake profile we created on Elite Singles for a woman seeking a man got 25 matches in 24 hours. Just 13 percent of those matches were 80 percent or higher.
Is there any refund process in EliteSingles?
Have you made a purchase in error? Are you unsure about a payment? Customer Support helps you. Receiving a Refund is easy, simply contact our Customer Care team. You can contact EliteSingles via the contact form which is available in Help pages. EliteSingles support team will get back to you as quickly as possible.
How do I Sign Up to Elitesingles?
Visit their website and fill out the registration form that can be found on their homepage.
Once you have submitted the form and finished the personality test,
your account is automatically activated.
How do I edit my Elitesingles profile?
If you want to edit your profile, simply go to your profile page and click on the pencil icon. This will allow you to edit the fields that can be edited. Once satisfied with your edits, simply click save. However, if you want to edit and change your display name, height, or age, contact their customer support.
How to search my match on EliteSingles?
In EliteSingles, you can filter your match list by who's new, who uploaded a photo on their gallery, members you have been in contact with, people who are like you, and profiles you marked as favorite.
Can I change my password on EliteSingles?
Yes, you can change your password anytime you like.
To do that, go to your account settings and click the password field.
Input your password, confirm it, and save.
    
Phone Number: +1 (646) 760-2453
Address: 874 Walker Rd. Ste C, Dover,
Delaware, 19904, US
Reviews
Scam app, horrible
Scam app, horrible. Works like crap, slow af. The support team sounds like bots, mod bots ban's people for noreason from random pplos reports even they wouldn't mean anything. I can't understant how is this app even here anymore. The devs also made profiles of random people facebook profiles without asking permissions, think about that. Chat and date and they are the same apps, just a different names, but same logic and pplo inside. U should never touch these apps.
AVOID
It's OK for women to pose provocatively in bikinis in their pictures but not OK for a guy to post a beach picture topless?? A running theme, as all the posts on their social media are pro feminist and anti anything male. The whole premise of "empowering women" to make the first move gives you a clue of what is to come with all the other anti male themes running throughout…AVOID
What a scam
What a scam. Save your money.
I am grateful
There is room for improvement, but I am grateful that my guy found me!
It was a good way to meet people
A newbie to dating in general so it was a good way to meet people I normally would not have had the opportunity to meet.
Fake profiles
Fake profiles contact you and once you subscribe they never reply, Con.
Avoid them
I wish I had seen this site before joining. It is an utter disgrace, they should be shut down. Shortly after joining I was bombarded with 'likes' from very attractive early to mid 30 year olds, I am 54! It didn't take long to realise they were fake, they usually only have a single photo. I have been receiving about 20 of these a day. This is an absolute con, and I can't understand why nothing is being done about them, Avoid them like the plague!!!
Its a scam
Its a scam . The whole site is automated
I have enjoyed several dates
After trying out a couple of different platforms, I came across this site. It has stood out as something more effective, I have enjoyed several dates with some nice people. Everyone was polite, respectful, and genuine
Keep trying
There's hope out just keep trying to find the one. See where it takes you
Very interesting experience
I have to say that it was a very interesting experience as I had the opportunity to meet some real people with a very tiny percentage of weirdos and time wasters.
I met a girl
I met a girl from my city on this app. We talked for like 2-3 months before we actually start meeting. When I saw her for the first time I was simply stunned. She was pretty, funny and all around amazing person. We kept doing stuff together 3-4 times a week for the next 6 months. I even met her.
Nice site
Nice site, nice girls, good job everyone. I'll recommend to my friends but first want to be sure it's not a scam. I registered yesterday so didn't chat with girls yet but for now looks ok. I'm waiting for emails.
It was easy to set up
It was easy to set up my profile and I got messages pretty quickly. Seems like there's a large and diverse user base, which to me is the most important aspect of a dating site. If I become single again, I would definitely use the site again.
It's a great site but too expensive
It's a great site but too expensive to And there's a lot of nice women on there I found my only truly love that I will spend my life with and i thanks to this site for For a lot of great experience on there
I love the app
I love the app. I met the woman of my dreams. I hope to be married soon. The only wish I had was to be able to save certain women I liked under favorites and see the last time they viewed me a lot faster
This site is a Fraud.
BEWARE! DO NOT give your credit card Info to these Scammers!!! This site is a Fraud.
Just stay away
Just stay away. There are better places to meet a higher quality of people.
Don't do it!
Warning to other users and this website, if anyone ask you for money. Don't do it!
Site is horrible.
Site is horrible. If you like someone and do not have an acct, you get a message from that person. This is how they get you to commit. After, you find out the message is CPU generated. When you reach back out to the person, they either do not respond or tell you they did not contact you.
It is the biggest lie in all the dating websites
It is the biggest lie in all the dating websites… they literally stole ~$60 from me… first month by sending fake and random messages on behalf of users so I subscribed to read them and the messages were like "message me to see if we are match" … I subscribed for a month… then they charged me for the second month!.. I canceled my account and will try to get my second month money back… and will I suggest eharmony if you wanna pay or POF for free..
Elitesingles.com is worst dating site
Worst dating site I have ever tried. I was on the site for merely 2 days and i kept getting this "internal error" even though I was using the correct name and password. I emailed customer service and never got a reply back. Through research, I discovered Elitesingles.com is notorious for doing this to a lot of people. Even though I did not once violate the terms of service, and not one of my photos was provocative in any manner. (they were just of my face). The research told me my account was deleted, and email was banned. No body knows why they do this to people. Worst customer service.
I cancelled my subscription with Elite Singles
I cancelled my subscription with Elite Singles, two days before the renewal was due. They still tried to take another 3 months subscription money from me (individual card details are held on file). However, I had cancelled the card I used for my original 6 months payment. As a result, they were unable to take more money from me. They then emailed me several times demanding payment! I responded to advise that I had cancelled my renewal subscription, 2 days prior to the renewal date. They have now sent me a letter, again demanding payment, to which they have added admin costs. They are threatening that non payment could lead to additional "debt" amounts being added, and the matter passed to their debt collectors! This organisation is unethical!
I deactivated my account
I deactivated my account and checked it after a day it was still not active a view month I checked again and Elitesingles was activated again and I paid 2x 59.95$ this is a crime don;t sign up for it