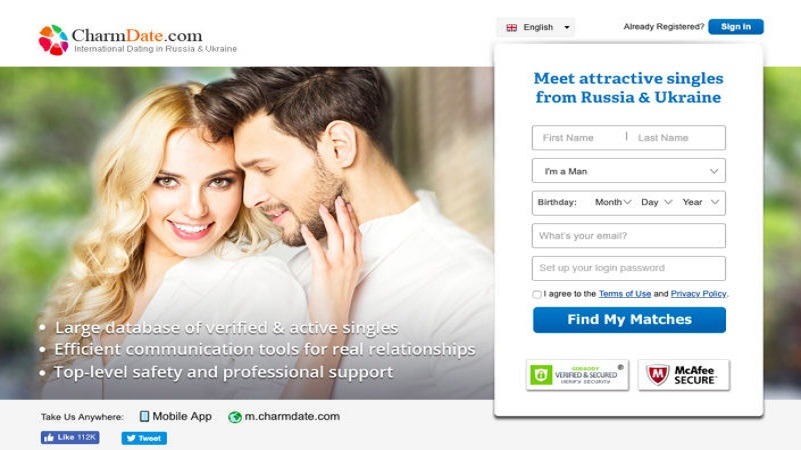 There is no doubt that CharmDate.com is one of the oldest running dating sites today. It has been around since 1998, helping millions find their ideal partners and create lasting relationships.
The site is owned by the cupid Network, a company that runs a number of niche dating sites like AsiaMe, LatamDate.com, and ChnLove.com. Just like these sites, CharmDate has a specific target market. It is said to be one of the most popular online dating sites that allow men from across the world to meet and match with gorgeous Ukrainian and Russian women. It is also known for being a foreign marriage website where people find love.
Local Dating Agencies – CharmDate.com
In Charmdate's own descriptions of its services. It says that they rely on a "huge network of local dating agencies all across" Russia and Ukraine. When I dug a little bit deeper into this issue, it became apparent that this means many of the women are part of large, shady schemes to make money off of foreigners.
RELATED ARTICLE: EuroDate.com
Frequently Asked Questions
How to edit profile details on CharmDate.Com?
Go to the profile section and where you can edit your details. But you cannot change your name, date of birth, residence country, and current relationship status. If you want to change these you can contact with Charmdate support team.
What about online security on CharmDate.com?
Charmdate takes online security and privacy very seriously. The most innovative and cutting-edge technology to ensure registration and usage is under a high level of security and protection. Online data processing and payment systems are protected by GoDaddy and McAfee, leading authorities in online security. The processing services used by the site are verified by Visa and MasterCard SecureCode.
How to search members on CharmDate.com?
To search for a member in CharmDate, you can use the options listed below:
Quick Search
Advanced Search
Member ID
New Members - click on the Newest Members link in the photo gallery section to view members who have recently joined the site.
Members Online Now
How much do the services in CharmDate.com cost?
These are the list of pay-to-use services:
EMF Mail - 1 credit each read and send
Live Chat - 0.5 credits per five minutes (for text-only with one-way video chat). Emojis, stickers, and photos cost additional credits.
CamShare - 0.6 credits per minute
Call Service - 1 credit per minute
Gifts and Flowers - prices are listed on the site.
What is Call me to feature in Charmdate?
With this feature, you can authorize your contacts to call you. It's free to make an authorization but for the call itself, you will have to pay for it. Your contact can then call you during your specified time.
What are Special Features in CharmDate.com?
CharmDate has a lot of innovative ways to let you communicate with people you like.
Admirer Mail
Live Chat
CamShare
Call Service
Gifts and Flowers
Virtual Gifts
What payment methods are accepted on CharmDate?
To purchase credits, you can use credit or debit cards including Visa, MasterCard, American Express, and Discover Cards. All credit card information that has been submitted on the site is encrypted and highly secured.
How do I know the members on CharmDate are real people?
All the lady profiles are verified. That means they have submitted a copy of their personal identification document with their photo.
Is CharmDate expensive?
In comparison to other providers, CharmDate is upper-moderate.
How do I delete my account on CharmDate.com?
Like other online dating sites, it is difficult to remove the account. To delete your account on CharmDate firstly you need to remove your images, profile details, etc. And then send a request to the Charmdate support team to delete your account.
Phone Number: +1 800-931-5079
Address: 71-75 Shelton Street,
London Asia, WC2H, GB
Reviews
I have recommended time after time
As my family and I were watching Hulu, the most disgusting commercial came on from this site and completely terrified my 5 and 6 year old children! I am extremely disappointed in site for even advertising something so horrific! Really satan with a site?! I have recommended time after time…NEVER AGAIN!
Do NOT waste your time or money on this site
Do NOT waste your time or money on this site. Let's forget about the fact that most of the people on here are mouth breathers who are in desperate need of a bath. 2/3's of the Top Picks on the site are NON-SUBSCRIBERS. If you are a subscriber and message a non subscriber they won't receive your message unless they rejoined or YOU PAY FOR THEM to read it. Stupid. I wasn't happy with their unethical business practices and so I not only canceled my subscription, but I also got a FULL REFUND. I'm sure most people don't think it's possible. Get your $ money back.
Fake profiles
I signed up 1 month age, from the 50 profiles I contacted, 45 were fake profiles, scammers, had 1 phone conversation, and 4 so far have not contacted me back. I assume fake profiles. In my opinion this was a waste of money. When I sign in I notice a large amount of activity, and receive about 5 flirts in 10 minutes.?? Is this scamming algorithm? You can judge for yourself. My opinion it's a waste of money, too many scammers and fake profiles on this site.
I met here is a scammer
My first "match" I met here is a scammer. I didn't loss any money because I am smart enough not to be fooled, and strong enough to pull it through. The scammer keeps harassing me but it's not considered as a crime by this site, therefore they refuse to release his identity due to "privacy concern". The scammers are harbored and boldened knowing there are no consequence of their behaviors. Some innocent people are hurt sooner or later. I'd like to say stayaway from this website as much as you can.
It's a rip off.
I have belonged for two out of the six months I paid for, contacted a number of profiles by the site's email system, and have only gotten three responses. The site says I have a lot of matches–162–but few are within the 50-mile radius I designated. Most are from out-of-state even though my other preferences are not overly restrictive. I have no interest in continuing any longer but refunds are not given. Thus, it's a rip off.
Terrible customer service
Don't waste your money! Terrible customer service or should I say impossible to reach customer service. This site is a scam. I probably get 8 scam messages a day. Same message with different photos. Most popular scam is "my friend saw you on this site. She's in the military. She wants your email and phone #." I've tried to contact customer service but have never been able to get anyone.
Its gives you poor matches
Its gives you poor matches and doesn't give you the chance to search. You just have to accept what matches they give you. From the start, the autorenew facility is switched on and no warning is given in advance so it automatically renews after 6 months and there is no right to cancel. The first thing I would so is go in and turn off autorenew. Saying that, there are better sites that do allow you to search.
Be aware
I thought I would give it a try! Dreadful site, can't get any support, no access to help. I have cancelled my subscription and will be contacting my bank to make sure they don't take any more money. I had forgotten my password….so they sent me a link…however I had to put my current password in before I could change it…???? Last time I joined one of the sites I discovered that after I left it and deleted my profile and photo that it was still on the site 2years later. So be aware
Stay away from this site.
Stay away from this site. It's full of fake accounts and all messages you receive and all chats are with bots. Bots, bots and more bots! Can't get any worse!
Scam scam scam
Scam scam scam. When they don't send you to every other affiliate site of theirs and continue to charge you. The woman on the site send you to bs bogus dating card sites that cost anywhere from $150 to $400 and or request you to get $600 per two night bs hookup rooms. Just a bunch of money mules here
Racist operators
Racist operators, they love scammers and prostitutes, girls doing webcam, sending pics for money, anything bad is for them, you dare not write anything bad trying to scam you because you will be blocked. They also have other sites that are the same and if you blocked on when you blocked on all…………….eventually. Never give your credit card to these people because they will clean it and block you.
Horrendous account
Horrendous account 1lst 1 I have paid for, no responses on the 1s you match with either web bate or a site that doesn't know how to behave in a professional manner!!!!
The site is awful
The site is awful. If someone likes you and they don't have an account, you'll get a message from them. That's how they get the commitment. You will then find that the message is generating a CPU. When you contact that person, you either don't answer or say they haven't contacted you.
Complete waste of time
Personally, I have to eliminate multiple fake people every day which results in a complete waste of time. People go to this site to find a partner, but what they get is a bunch of fake accounts that claim they want to know you but end up trying to get your email and other types of information.
I was lucky
I was lucky and found someone on this site. I never had to purchase any coins. Just by doing the carousel, I earned them. Still wish you could search by user name.
I met a really wonderful woman
I met a really wonderful woman and thank you guys for the experience
Dont waste your time here
Obviously a money grabbing site. What a joke of a site!
Don t be fooled.
Don t be fooled. This site has to be blocked. Once u subscribe ur screwed . Fake profiles.
Best to avoid.
Paid for a month subscription. Lots of fake likes from single ladies. Waste of money and effort. I deleted the app recently. I wish I read these reviews earlier. Best to avoid.
Just out to get your money
Just out to get your money. Into their own thing. Not attentive to customers.
It is an amazing platform
It is an amazing platform to meet some great people among which you can find your true love! You can find a compatible partner who will love you and that is a great thing! I think the best thing about them is that they really help you build confidence and find out what you really want.
Yes a lot depends on luck
Yes a lot depends on luck. But obviously on your self and profile. What your looking for And people are on site who you both see interested in each other's points of view and look ok.
Their algorithm is great
I used the site for less time than expected. because I found a great partner faster than expected. Their algorithm is great at finding compatible people, plus they have cute personality and other tests.
I found this site
It does work if you stay at it. I wish everyone love and happiness.
User-friendly and convenient
User-friendly and convenient design which makes the usage joyful and fun. The credit system is convenient for those who prefer a controlling situation.
Fantastic site
Fantastic site, not full of wasters like so many other sites about. Real people looking for a great life with someone who they can relate to and maybe fall in love with.
All working fine!!
Although you have to be careful with who you meet online, on my case I was very fortunate to have met someone a like me and we are 1 year in the making, all working fine!!
My over all experience was good
Compared to other dating sites this one seemed better. The quality of people were better. The dating sites are like a meat market. My over all experience was good
Be careful!
This site is bad for anyone. Be careful!
Very disappointed.
I am new to the area that I live and trying to find people around me. Even though I continually try to make my range settings smaller and smaller it doesn't change a thing. I still get people from hours away. Also, unless you pay for premium services they don't show everyone in your area. Very disappointed.
Total rip off.
Like many other sites, is loaded with fake profiles. DO NOT GIVE THEM MONEY. You may as well set your cash on fire. You will never get any value from this site. Total rip off.
Complete scam site
"Eats it. Did Match twice; far more worth it than Charmdate.com
Sends you false views, sends you false interested. As far as I can tell; a complete scam site. Sucks to have wasted over $70 for 6 months. Oh well; should have spent the money on scratch off's. By the way; been on less than 3 weeks and absolutely regret it.
Don't bother filling geographic or attraction preferences, they don't bother filling it out unless you like exercises in fruitlessness."
Do not trust this company
Do not trust this company. They will rob you blind. Ceo are crooks. Get the word out that Charmdate.com is a fraud.
Charmdate is totally a scam
This dating site is an unethical business. Once you pay to sign up you have to buy coins to communicate with members or buy emojis and pay to see if someone read your message. Also pay to have your profile boosted. It is totally a scam.
Charmdate is Fraud
Hey, guys, are you crazy to spend so much money on this scam? You can find the real females from Russia and Ukraine on the other sites (love.mail.ru,beboo.ru, mamba.ru or others)… As for me, I can see them every day. BUT 99% of the single females both in Russia and Ukraine (in the real life) are poor and ugly. It always amused me, when I found so many women 40+ looking so gorgeous… In the reality all of them are lost shape after 35 and total wrecks after 40.