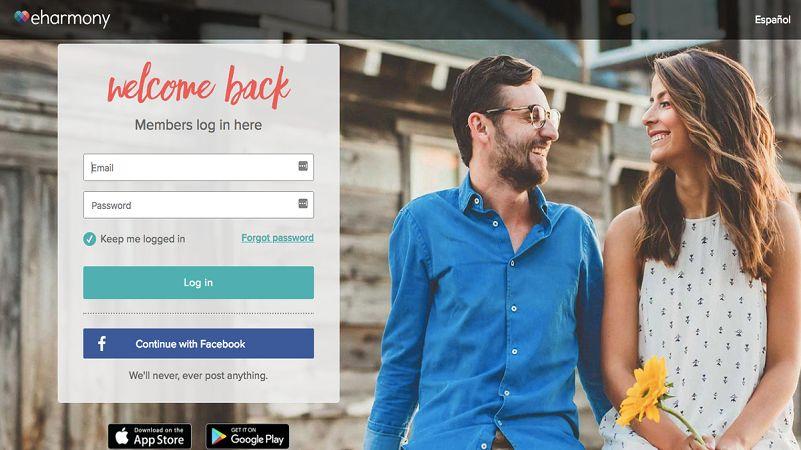 Los Angeles-based eHarmony (www.eharmony.com) launched in the United States in 2000 with its patented Compatibility Matching System® which allows eHarmony members to be matched with compatible persons with whom they are likely to enjoy a long-term relationship. Millions of people of all ages, ethnicities, national origins, and religious and political beliefs have used eHarmony's Compatibility Matching System to find compatible long-term relationships. 

User Experience on eHarmony.com
The user experience on eHarmony is 100% personalized for each individual user, but also very restricted. This isn't a site to throw out "Hi, how are you" or other generic messages and waits for responses. Instead, users can only see those people the site has identified as potentially good matches for them (so that means there are no browsing or searching features available). Members discover others based on the intentionally limited number of matches the site shows them each day. 
The more one uses the site. The more matches, and encounters that are possible. But due to the nature of only seeing a hand-picked yet small percentage of the total site membership each day. The online dating process on eHarmony is slower and more calculated than that on other online dating sites. This, of course, could be a deterrent to some. But with the tried and true success, eHarmony has in facilitating lasting romances. And marriages, in addition to numerous awards the site has received over the years. It's reasonable to consider dropping your need for instant gratification or mass attention in order to achieve real love. 
RELATED ARTICLE: EliteSingles.com
Frequently Asked Questions
Does eHarmony.com really work?
Yes, I would say eHarmony does work. It is one of the largest and most successful dating sites. It primarily targets those seeking long-term partners or meaningful connections.
Why we join eHarmony.com?
Eharmony is a very famous website on the internet. Many people share there positive experience about this website. eharmony is dedicated to finding loving, long-lasting relationships for singles.
Is eHarmony is free?
Joining is free on eHarmony you can create your profile and watch other profiles. If you want to use eHarmony to start chatting with people and finding that special someone, you are going to have to pay for an upgraded account.
Is eHarmony worth it?
Well, I think eharmony is a bit different from other dating sites. Success rates are good for finding your partners in eharmony.
How safe is eHarmony.com?
According to eHarmony privacy policy When you register for an account or subscribe to any of our Services, we collect a variety of information about you, including your contact information such as your name, email address, contact number, mailing address, date of birth, dating preferences, etc. We store information in a combination of electronic storage facilities, paper-based files, and other records. While we cannot guarantee your personal information is completely secure at all times, we have administrative, organizational, technical, and physical security measures in place to help protect against the loss, misuse, and alteration of the information collected and processed.
What kind of cookies does eHarmony.com use?
We use certain cookies to make sure that our website and our Service is easy, secure and safe to use.
How do I delete my account on eHarmony?
If your account does not have a subscription, you can delete your profile within your account by:
1. Clicking on the arrow next to your photo at the top of the screen to open the dropdown menu
2. Clicking the Data & settings link
3. Under the Profile Status section, click the link within To permanently delete your profile, click here On the following page you can confirm the permanent deletion of your profile
How success rate for eHarmony.com site?
Success rate for eHarmony, less than 40%. eHarmony may have a good reputation on the surface, but we took the liberty of checking whether it is a dating site worthy of your time. People who stay on this site have most likely upgraded their accounts. This can be pretty costly so, there is a huge possibility that you'll match with someone who is already stable.
Should I try the eHarmony.com?
If you are looking for a serious relationship, then this site is probably worth a try. Most of its members are in the age of settling down and building a family. eHarmony is in conjunction with the basic interface it might wear it has the web version. It is clean and easy to navigate and does not have a lot of promotions to deal with. The app allows easy scrolling through your match list and favorites' list.
How can I contact eHarmony?
There are many options to contact eHarmony, goto about, and then contact. There are Help Center, Careers, Press Inquiries, etc. You can check their Help Page if you have any issue and questions regarding your account.
Phone Number: +1-626-628-3467
Address: 10900 WILSHIRE BLVD,
Los Angeles California, 90024, United States
Reviews
DO NOT join!
DO NOT join! False Advertising and HORRIBLE Customer Service! Save your money. Much more reputable sites out there. Quick to take your money but very very ignorant when it comes to assisting the customer. Again,..Beware!!
Horrible experience
I used this site many years ago and l'm very disappointed this time. Waste of money. Not worth it. They want to charge you for everything. You can't even put the picture you want on as your profile. Horrible experience.
This site has no security
This site has no security, there are so many fake profiles and scammers. I personally was scammed 4 times on this site. When they are going to Europe for business and need money, RED FLAGS. I've never had so many issues with hacking my profile, trying to get my credit card number. But the scariest is when you are stalked, police have to be called and Our Time does nothing because it's against their policy. Never, ever ever again!!!!
This site is a total joke
This site is a total joke. They have no way to control scammers on there. I was getting 10-15 emails a day. The last 3 months on there was a waste of time. I only found 1 legitie person to talk with there in 3 MONTHS! Anyone asks me about this site I will say run do not past og
Creepy looking people
I signed up and then cancelled after I started receiving messages from age groups that I am not interested in. Also, some pictures I think were fake. Could not get ahold of customer service and so I tried to cancel online and then they extended out my membership (which was for a month) for 6 months. Don't sign up. Creepy looking people. Think generally, that is is a scam. Contacting better business bureau today.
I could never get a response
I could never get a response from this site about getting a partial refund, so I turned to American Express, which got my money back. And then they sent me messages saying they were waiting for payment from me! Why hadn't I paid! So poorly run, one hand doesn't know what other is doing.
Complete waste of money
I have to agree with all the poor comments on here. Unfortunately signed up for 6 months. Complete waste of money. Been contacted by several, what I can only call certifiable maniacs. Don't bother with this site please. Completely put me off any dating sites.
Do NOT use this site
Do NOT use this site. What a waste of time and money. They offer the world, you fill out half you life information just for them to return any tom, dick and harry and they are not even within your preferences. They restrict what they give you daily. Absolute thieves and liars. Spread the word as I am doing so that people do not fall for this scam
Site is a joke
Don't waste your money to buy frustration. These guys barely have it together and their site is a joke, a bad joke.
Very difficult to cancel
As stated numerous times before… This site is full of Bots and FAKE accounts and automated responses. Very difficult to cancel. JUST SAY NO!
DO NOT USE!
This site has just taken nearly £200 from my account AFTER I deleted my bank details and accidentally hovered over the credit screen to see what the credits were all about….its crap and its banking system does not even ask for your 3 digit security on reverse of card…..why are these companies allowed to operate! I am a single mum on a budget just looking for a genuine guy, but find I am out of pocket by alot of money and most of guys are cat fishing you….DO NOT USE!
They didn't get back
I joined this site and initially had no issues. If you like a girl and they like you it's a Match and the girl has to make the first move. Sounds sensible! The problem is you run out of people rather quickly so of course you delete your payment details so they won't renew….. until they renew and take another payment. I've repeatedly written to their "customer service" only to be told by an automated message that their bees are very busy and will get back to me. They didn't get back to me, closed my query and still haven't replied to the subsequent query. I'm waiting a month now for a reply.
I highly recommend you to save.
I highly recommend you to save.
Don't go to this site.
Once they have your money, they don't care. If you want a dating site, don't go to this site.
There are a lot of ppl
There are a lot of ppl on this site, better than most. But we also pay one of the highest premiums. I don't think it's right to have to purchase coins to do many things! Because of this, if things don't work out with him, I'll look at other sites.
I found this site
I found this site very confusing to use. I did not like the coins/carosel feature. I felt that the site should have used my preferences to prevent me from being an option on someone's carousel that did not match the preferences I chose for dating. I also didn't like that every time I scanned a picture to see who viewed me, it let them know that I viewed them. And after I deleted a bunch of views, all of the men I deleted came back up on my recently viewed, because they thought I viewed them. Very frustrating. However, I was fortunate to meet someone after several attempts to find the right person, so that was the bonus.
Stay far, far away from this site.
Stay far, far away from this site.
Ghastly rip off
Ghastly rip off with non-existent customer service and lots of tricky fine print!
Do not waste your money and time
I was lucky that I paid only for a 1month subscription. After two days I just realized I am stupid and did cancel automatic renewal. Received likes and even messages but from women not situated in my area. One "woman" did offer me to communicate through HangOuts. I was suspicious but I did agree to do that. Ask for her photos and I did check them through face recognition and discovered that photos are posted on Websites with scammers and they are stolen from an innocent lady. I am sure this will happen with 98% of all profiles on this "great" website! Do not waste your money and time on this!
Don't do it!!
This site is a total scam to get your money. Don't do it!!
Using this site for a very long time
Using this site has helped me to find partners nearby that I never would have met usually and I can see myself using this site for a very long time.
The site is easy to navigate
The site is easy to navigate and manage, with great customer service. Like other sites some users are not subscribed and you are unable to chat with them, but not a site issue.
Dream come true for me
I have had a wonderful experience on this site and I have meet a wonderful Woman here and I am looking forward too spending the rest of my life with her! This lady I meet here a dream come true for me. Thank you
Its been great
Its been great that i was able to find someone in here. And i am hoping things work out so far so good. I feel like ive met the one
Such a great dating website!
Such a great dating website! Lots of cute girls, easy way to communicate with them, plus a variety of ways to express different interest levels. Nice app… overall great experience.
Amazing experience
Amazing experience and I met many wonderful people
I like this site
Its a good site I would use it again its a well thought out site and good service I really liked the constant updates that had been provided to me it kept things interesting I like this site
Great service
It was a sufficient way to see how many people were interested in me and a great service for chatting and it was comforting to see that the pictures were verified.
Too many fake/scammers on this site
Don't waste your money or your time! Go outside and play. Meet someone the old fashion way. Too many fake/scammers on this site. And those paying sights aren't any better! Spending money isn't going to make a difference. All the best!
This is a horrible site
This is a horrible site. I would recommend any other site over this one. Plus the customer service is terrible. They need to learn how to respect there customers!!!
They don't care
People always buffer the look and style of themselves and they are not whom they seem to be so it become a misunderstanding and a bad situations for people to have to deal with and they don't care about other people.
Definitely a SCAM
Definitely a SCAM and i'm certain controlled by Russian Mafia. STAY AWAY!
One of the worst dating website ever
One of the worst dating website ever. Expensive with hidden fees + need to pay more even to be seen by other members. Lots of fake profiles that will send auto reply messages making u think u have got real messages in. Stay away from this scam.
Fake profiles, rip off.
Paid for 3 months. Which is the cheapest package they offer, well, in 3 months I received a total of 0 responses from actual real people. All fake accounts.
Seems the site is a hackers
Buy fake wine and flowers, send fake gifts to your potential soulmate; fake gifts that you forked over real money for. Remember likes attract ,so if you want potentially fake in your soul mate then this is the site for you who have no sight. I think Mark Z. established this fiasco as it has a junior high kinda feel complete with drama & teanage vampires. Seems the site is a hackers fav too.
eHarmony is obviously one of the biggest dating sites
eHarmony is obviously one of the biggest dating sites so I decided to give it a try. I joined eHarmony three months ago and I was positively surprised. I got in contact with many nice women and arranged a few dates. It is a quality dating site. Only reason I left it was because I tried out a few other dating sites liked Mingle2day which I personally liked a little more. I'd rate eHarmony 4 out of 5.
Eharmony is the worst
No, No, No!! This site is the worst I have tried. It costs a lot, and you only have the choice of looking at the matches they send you. I'm a very fit, relatively attractive 50 year old, very active, woman! My matches are clearly not living the fitness lifestyle and tend to be around 68 years old!!! HA! Don't waste your time. I am requesting a refund.