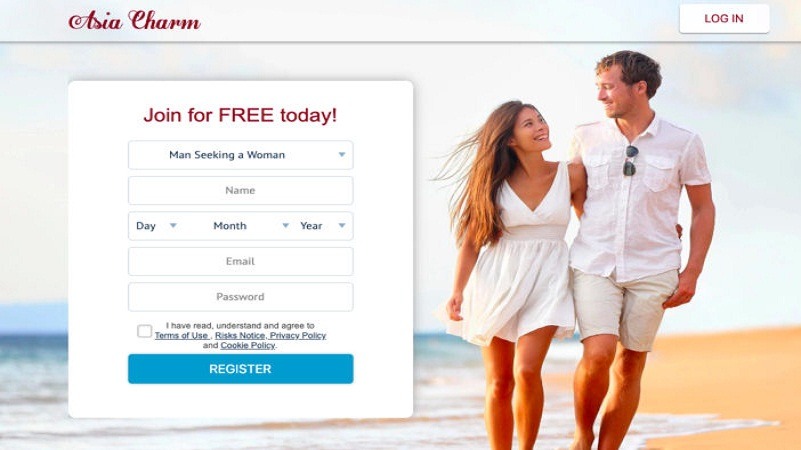 AsiaCharm.com is a site to help you establish an international relationship. It was created for those men who are keen on tender Asian beauty and want to have a wife from Thailand, the Philippines, China, or some other Asian country. Oriental appearance has been a trend in beauty for the last couple of years, and it is not a surprise that AsiaCharm has worked well for more than half a decade.
Amazing Asian Bride – AsiaCharm.com
According to the statistics. There are more than 55 000 monthly visitors to Asia Charm. So you can be sure that there is a hot Asian lady for your taste. Moreover, the number of female accounts is larger than the number of male ones. So it raises your chances to find yourself a bride.
AsiaCharm is a really good site to find an amazing Asian bride. The platform has everything a legit dating site is supposed to have: powerful search algorithms, detailed profiles, translation services, and a great, user-friendly interface. Of course, it has its disadvantages like the absence of date arrangement services. But it still performs its main functions perfectly. It really provides the members with an opportunity to meet Asian singles and start a happy relationship.
RELATED ARTICLE: Eharmony.com
Frequently Asked Questions
Is AsiaCharm.com free?
You can register on the site - it doesn't require any payment. Then, you can validate your profile and start browsing. You can use various search filters and wander around female profiles, looking through the pictures and reading descriptions.
Is AsiaCharm.com has real or fake profiles?
Some are real some are absolute fakes check the other sites that are similar. They are in fact so similar that I believe they are all or mostly owned by the same group. They pay the girls based on their volume.
How to Register on AsiaCharm?
The registration process is easy it will not be difficult for you. On the homepage, you will find a simple five-field form. Enter the data in the form, like the purpose of the visit, name, date of birth, email, and password. Next, the site will offer to confirm your email, and registration will be completed. It means that now you have your account on AsiaCharm.com.
Is there any free trial on Asiacharm?
No there is no free trial version on Asiacharm.
What is Paid services provided by Asiacharm?
AsiaCharm functionality complies with the existing standards in the online dating industry. The main paid features are
Chat Service
Instant messaging
Virtual Gifts for ladies
Real Flower and presents
What is the cost of AsiaCharm.com?
Asiacharm offers almost the same as other dating sites. You need to purchase credits
20 Credits cost is $2.99
50 Credits cost is $19.99
125 Credits cost is $44.99
Is profiles are real on Asiacharm?
All profiles of ladies on the Asiancharm are carefully checked. You may notice a special icon Validated Member in the upper right corner of the user profile. This icon means that the user has passed the verification and his profile is not a fake.
How will take time to approved profile on Asiacharm?
For Male users account verification usually takes a few minutes. For women users, this procedure can take several hours. To obtain the status of Validated Member, the confirmation process may take a day.
How many members does AsiaCharm have?
AsiaCharm is one of the most popular platforms that connect Asian girls and single guys from different countries. All over the world, almost 55,000 users visit the site every month.
Is AsiaCharm.com safe?
The security of users' personal data is vastly important for the site administration. Financial operations with credit cards Visa and MasterCard are carried out using a secret system code. Data protection of users posted on the site is provided at the TSL protocol level.
Address: [email protected]
Reviews
Site is full of fake profiles
Site is full of fake profiles. Many fake likes and conversations. You can tell the conversation isn't real. Answers given either don't make sense or are intentionally vague and provide zero depth and go nowhere. If you are discerning about your potential match, I would avoid this site. Not saying there isn't romance to be had on there, but it's not even close to the way commercials represent this site.
This site feeds you
This site feeds you, people who appeal to your selection, once you communicate with them on a free messaging basis, you lose contact, then you pay and their profile is no longer found. This has happened a number of times, I initially gave it just a fluke chance, but it has happened more than once, in addition, I have given my preference and repeatedly my box is filled with those outside of my preference. I have more than just an inkling this is the method of which they work. They should not be allowed to charge for their services because it is never up to par. Basically they sucker you in then charge you and want to keep charging you annually if you don't cancel, it's a gimmick.
I cancelled immediately!
I was in the Dating site for one month. In that time I was contacted by scammers and con artist. For every legit woman I got four scammers. They have fake profiles and fake pictures. There is no monitoring of the scammers. The customer service is terrible. When I contacted them I was told I am not forced to be on the site. I cancelled immediately!
Don't waste your time or money
I continually received emails from people asking me to contact a "friend" who was not a member. I repeatedly reported this behavior and they did nothing. You won't get your money back if you cancel because of these deceptive people. Don't waste your time or money.
They have auto email responses
They have auto email responses. Not a real person to help answer your questions. They don't check very thouroughly because someone hacked my info and set up shop on this website.
This is a horrible site
This is a horrible site Again I can't seem to submit this review. I was here before and I'm seeing the same exact profiles. There are only a handful of profiles that I am matched with. Most of my matches are in another state. It doesn't matter if you put a 50 mile radius maximum. You will be matched with anyone and it's so random. The site is full of scam and fake profiles. Stay away from the site. It's a waste of your hard earned money.
The website is terrible
If I could give no stars I would. There is no filter. Age, location, none of this matters.They just send anyone who is of the opposite sex. And the profile is useless. No important questions are asked, and it wouldn't matter anyway. The website is terrible. Please don't bother with this site if you haven't already signed up. Its basically tone deaf and useless.
overall 1 star
As you can see it's an overall 1 star review because when you try to cancel they still renew your contract
Bunch of fake accounts
I personally have to weed out multiple fake people every day, which translates to a complete waste of time. People go on this site to find a companion, but what they get is a bunch of fake accounts claiming to want to know you but in the end they're trying to get your email and other types of information.
Definatley a scam
Would give 0 stars If I could. I signed up for a 99 cent one day trial. After using it an hour or so I realised it was a scam and never used it again. A few days later I checked my account and they charged me over 65 dollars in 2 days for premium functions and a monthly subscription even though I only signed up for a day. Now I can't get in contact with them. Definatley a scam
Don't understand
I got my account blocked after having one conversation from one of the hood chicks. Who flipped out on me. Don't understand that one at all. That was a sign so I'm going to leave it that.
A complete rip off
Terrible. A complete rip off. They charge for features they don't provide. The women are pretentious and 90 % fake profiles. Garbage
Don't waste time
Don't waste time looking for a real connection here with a selfless person.
Never pay for a subscription
Never pay for a subscription or you will regret it!
Meet your guy here
Meet your guy here. I did! I am only writing this so i can unsubscribe from site. You should have been happy with what i origianlly wrote
It was ok
It was ok, kind of hard to maneuver and I wasn't sent matches that were what I was looking for.
This site is terrible
Seriously this site is a waste of time and the selection is terrible.
This site sucks
This site sucks !! The people contacting you are either FAKE or let's just say NOT what I would be looking for , stay away don't waste your $$$
Stay away from this site!
This site is just for full of fake profiles and scammers. I paid for a three month subscription but have deleted after only two weeks. Stay away from this site!!!!!!
Worst dating site ever
Worst dating site ever. Expensive, no local profiles. No one is ever online. Haven't been able to talk to anyone in almost a month now.
Very friendly customer supports
I do like easy usability on the website. Also, very friendly customer supports who was very tolerant to me and my issues
Perfect guy
Literally met my maybe perfect guy in less than a week!
Is very nice dating site
Is very nice dating site, many beautiful women's here . Have chat and very good help desk. I don't know still if the women are real. Have also many different payments.
It is a good site
It is a good site for older men, has a fresh format and is down to earth. I've met a range of fun and interesting guys here I haven't seen elsewhere
It's one of the best dating sites
It's one of the best dating sites
Very pleased with the service
Very pleased with the service
Be patient
I was about to give up on this and other dating sites. Kept with it though and in a couple of days I met someone. It takes some time, so be patient and have fun with the search process.
Wonderful experience
I meet a couple of ladies here. Met on a dated two of them. But then I met a wonderful woman long distance and we decided to become friends. It has been three months and we have decided to meet up and know each other to possibly start a relationship. I'm super excited and looking up to this wonderful experience.
Site is the worst of the worst
This dating web site is the worst of the worst. Don;t waste your time or money dealing with these clowns.
Not worth the time !!
I think it's a complete farce! No responses, no nothing ! meetings stink, Not worth the time !!
Save your money
Strongly recommend you save your money.
Really sucked!
Wow! Most of the men I chatted with were married and looking for a side piece. Really sucked! Finally I met someone and dated for a month found out all he wanted was sex. So many games… Would not have expected this
Asiacharm is Scam
Do you want to connect to "Asian" that don't speek English and only will chat with you? A pretty good business for them – but bad for us who are looking to some real contacts. The page is Scam.
Asiacharm in NOT FOR ME!
Asiacharm in NOT FOR ME!!!!! There are plenty of other dating sites that do not order you around and make you their PUPPET!!
Asiacharm Nice Webiste
The searching process on Asiacharm.com is done easily: you can pick different filters to make the searching area more narrow and look for a particular kind of women.
Asiacharm is too expensive
It is way too expensive you can go on biker or not dating site and send messages this asiacharm is too expensive and i hate it wish I could give it a 0 rating
Asiacharm is a joke
This site is a joke. Supposedly validated members send you photos that if you do a google images search you will see are Asian celebrities. They will try and string you along and I am sure they are getting paid by how many credits they are milking out of you. Even after you get contact information, they claim they didn't get your emails or they claim they sent you emails and you never get anything. Then they want to keep using the site for communicating. I had one woman who started sending me pictures of a singing group called By2 claiming it was her and her sister. This was one of the "validated" profiles. This site is a scam, pure and simple. The owners have no honor or decency!